​
Nationwide Notary Signing Agents & Mobile Notaries
​
Every month Unlimited Ink Notary holds a LIVE Onboarding for Notaries Interested in Working with us.
Please note: we currently do not take any phone calls (because of high call volume) regarding Notaries who wish to work with us.
We utilize our phone time for Client and Notary support. Please,

a

fter you've read our FAQ's

register for this event here:
Unlimited Ink Notary, LIVE MONTHLY ONBOARDING
FAQs
How can I start working with Unlimited Ink Notary?
---
Unlimited Ink Notary requires that our signers be Notary2Pro.com graduates* and participate in continuing education through NotaryStars.com. If you have not taken either of these courses you may purchase them both through www.notarystars.com/membership_information We currently steer clear from Notary training companies that focus on "Making Six-Figures" verses companies that provide quality training. We are sorry if you've invested in these types of courses but they don't seem to provide us the quality of Notary we are looking for here. Experience is a thing, yes. However, with so many notaries flooding the markets we have no idea who is being honest about their experience. Which is why we require these two courses (along with over 125 other companies) in order to work with us regularly. We manage our notaries through SigningOrder.com. Once you are signed up on SigningOrder.com and you are a Notary2Pro graduate, you will be added to our preferred list automatically. Notaries who are on NotaryStars.com will also received preferred orders from UnlimtiedInkNotary *If you are not a Notary2Pro graduate or NotaryStars.com member we quite possibly still might work with you- but Notary2Pro.com and NotaryStars.com Graduates and Members will always get preference on our offered signings. Please make sure to watch our video on how your profile should be completed: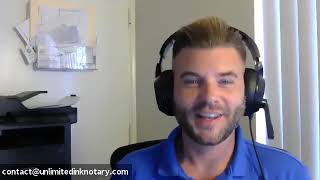 ---
Are there any other requirements?
---
You must have:
An up-to-date background check and W-9 on your SigningOrder.com profile
A current Notary Commission for your state
Current E&O insurance (minimum $100K)

Some notaries bark at having a higher E&O but we ask you. Have you ever seen a house for sale these days with 25k E&O? No, because 100k or less is generally for notaries not conducting loan signings.
We prefer notaries with 2 years experience, in addition to a Notary2Pro.com certification and NotaryStars.com Membership. We also give preference to notaries who possess mobile printers, mobile scanners, and are tech savvy!
---
What are Unlimited Ink Notary's busiest regions?
---
Currently, our busiest cities are Austin, Denver, Las Vegas, Los Angeles, Phoenix, Tucson, and Seattle. We also service about 30% of our business nationwide outside of these cities. We have great relatonships with notaries in every state! As of 2021 we have a growing presence in all of California and Florida. If you reside in any of the hotspots or States listed above you should register for our monthly LIVE onboarding. Please note you must have 2 years experience, a Notary2Pro.com certification, and have trained with NotaryStars.com in order to become a regular team member in our hotspots.
---
How will I get orders through Unlimited Ink?
---
After signing up on SigningOrder.com, you'll receive text messages asking if you're available for signings. You'll respond with your availability via the text message. If you were selected to handle that signing, you'll log-in to SigningOrder.com for details and to download the documents for the signing. All of our orders are processed through: https://orders.unlimitedinknotary.com/admin/login To access your order you must use the email we send your order to and your password. If you do not know, or remember, your password you may hit password reset to have a password reset sent to you.
---
What are your payment terms?
---
We actually do not have a set payment date as our clients get to choose their payment schedules. However, we strive to pay all orders within 30 to 45 days of signing. The reason we do not have a set payment date is we pay our notaries the day after our clients pay us (per our contractor agreement). Our agreement does allow for us to make payment up to 90 days after a signing but this RARELY happens. We have direct relationships with our clients and we make sure that we stay on top of our billing with them.
If you wish to discuss payments, you must email us at: accounting@unlimitedinknotary.com
If you prefer to call/text about payments, you must use 602.492.5187
---
When will I get the documents for my assignment?
---
Documents generally arrive 2 hours prior to your assignment. For rushed files they may arrive in less than two hours. We give preference to signing agents who mark themselves as having mobile printers. Ideally, serious signing agents will have a mobile printer. This industry has changed to be a much more 'on-demand' service, and signing agents with a mobile printer and scanner will definitely rise above the rest.
---
My file requires scanbacks or return of documents- where do I return them?
---
All scanbacks must be uploaded to our portal online. You will find an upload button in the 'Downloads' section of the order on SigningOrder.com. If you did not download documents, you still must return your scanbacks to the Documents section within your order. Please make sure to click "scanbacks complete," when you are finished uploading to notify our team your scanbacks are ready. Please note these scanning tips within our notary instructions: #1) ALL SCANBACKS MUST BE LEGIBLE ( ABSOLUTELY NO PHONE SCANS) #2) YOU MUST UPLOAD AS FEW FILES AS POSSIBLE WITH EACH FILE (NOT EXCEEDING 15 MEGABYTES) #3) ALL FILES MUST BE UPLOADED TO YOUR PORTAL WHERE YOU DOWNLOADED THE DOCS AND YOU MUST HIT "SCANBACKS COMPLETE". NEVER EMAIL DOCUMENTS REGARDLESS OF INSTRUCTIONS UNLESS ASKED EXPLICITLY BY UNLIMITED INK NOTARY #4) DO NOT SCAN YOUR FILES ON HIGH RESOLUTION SETTINGS!!! ALL UPLOADS MUST NOT EXCEED 15 MEGABYTES PER FILE. IF YOU DO NOT KNOW HOW TO CHANGE YOUR RESOLUTION SETTINGS PLEASE CONTACT YOUR MANUFACTURER #5) YOUR SCAN BACKS MUST INCLUDE THE SAME AMOUNT OF PAGES YOUR FILE HAD WHEN YOU DOWNLOADED. NOTARY INSTRUCTIONS, ID'S, AND REQUESTED DOCUMENTS SHOULD BE SCANNED SEPARATELY AND UPLOADED INDEPENDENTLY. #6) IF YOU ARE PRESENTED WITH A CASHIER'S CHECK AT YOUR SIGNING YOU MUST INCLUDE IT WITHIN YOUR SCANS #7) UPLOADS MUST BE LABELED. EXAMPLE ID FOR… OR PART 1 OF 2 DOCS, ETC.
---
What kind of mobile scanner do you suggest?
---
For mobile printing we suggest the Brother ADS-1250W
Lots of notaries wonder- where do I plug it in? That's easy- at your client's home! This wonderful device fits in a PostMates bag or a sturdy grocery bag.

Scans are quick and of excellent quality. When you accept a last minute assignment, let your clients know you can scan back before leaving the table.
---
What kind of mobile printer do you suggest?
---
For mobile printing we suggest the Brother HL-L2300D
Lots of notaries wonder- where do I plug it in? That's easy- at your client's home! This wonderful device fits in a PostMates bag or a sturdy grocery bag.

Never miss a signing with this beautiful printer. If your clients contact you last minute, always offer to print all legal (never all letter). Once they know you have a mobile printer, they'll call you all the time! And, Unlimited Ink Notary prefers notaries with mobile printers and scanners!
---
How will I be contacted for signings and share my availablity?
---
We do not need to know your availablity for signings. Signings are sent out as a text message from our order number (888)-250-6211. Regular notaries store this number with a special text tone so they know it's us asking them if they can complete an assignment as our orders get filled fast! Please note you can only accept, decline, or counter offer this line. Our fees are generally non-negotionable as well as our scheduling times in major cities.
---
What is the dress code for Unlimited Ink?
---
Notaries should be dressed business causal. Notaries may not wear company logos from their own signing agency or name tags displaying other company names. Business casual is not a preferred dress but mandatory for all Unlimited Ink Signings. Unprofessional Dress Reports will result in non-payment as it is strictly written within our contract. Notaries should consider wearing a mask as part of their uniform no matter what the signers request and no matter if you are vaccinated. Because you are traveling into and out of so many peoples homes you should be wearing a mask for social responsiblity.
---
What kind of signings can I do with Unlimited Ink?
---
Unlimited Ink Notary is a full-service Signing Agency. We offer seller, buyer, refinance, and more real-estate type signings. Being assigned to these types of signings is based on skill level. Experience is necessary for all of our clients. General notary work is offered to all notaries throughout our service areas. It is mandatory regular notaries take general notary work from time-to-time to ensure our company name is up-held. Just because these file fees are lower does not mean you can sit them out regularly. Regular contractors may lose their place in rotation if they neglect to also participate in General Notary Work as well.
---
What if I have a question about my assignment?
---
For all order related questions, you must use: contact@unlimitedinknotary.com to reach us.
If you prefer to call/text about orders, you must use 929.274.4948 to reach us.
---
What are the acceptable forms of Signer ID for my signings with Unlimited Ink?
---
Acceptabe forms of ID for Real Estate transactions are as follows: A current US (NON-FOREIGN) Passport or a current US Drivers License If you are using anything else as identification you must consult with Unlimited Ink or the assigning Title Agency.

Occassionally, with approval, you may validate a signers ID using a credible witness and this form: APPROVED CREDIBLE WITNESS AFFIDAVIT (make sure to update the year manually) We suggest to keep these forms on you at all times. Please note various clients and title agencies may have their own version of this form. This is only approved with by our clients as a last resort.
---
What are your COVID-19 Policies for Notaries?
---
All Unlimited Ink Notaries are expected to wear Maks and Gloves to their signings, no questions asked. Regardless of personal beliefs or medical hurdles you must wear a mask. You will not only be removed from our signings but you will also be reported nationwide on all Notary platforms if you do not. You are an independent contractor and that means you are not an employee. Our contract states you must follow our requested procedures or you will not be paid for an assignment. We know this must sound extreme but we are doing our best to prevent the spread of COVID-19. If you do not agree with our mask/glove policy you may go inactive at anytime on SigningOrder.com or ask us to block you until the Pandemic is over. Our policy is non-negotionable.
---
How Do I Become A White Glove Notary?
---
In order to become a White Glove Notary for Unlimited Ink Notary you must have completed 200 signings on SigningOrder.com for any companies. You must have ZERO negative Feedback or Blacklisted Remarks at the time of becoming a White Glove notary for a period of six months- and you must have completed at least 50 of the 200 orders for Unlimtied Ink Notary without error. In addition to these requirements you must possess a Notary2Pro Certification and have attended NotaryStars.com continuing education for a minimum of 30 days.
---
I have taken training elsewhere, will you accept that training?
---
We are happy you have taken the time to invest in training. Our company policies are set in stone. We only accept Notary2Pro and NotaryStars.com training. The combination of both will take you further with us, and with other companies. We have tried using graduates of a variety of courses but they don't seem to meet our levels of exectations. If you would like to work with us regularly you must become a Notary2Pro graduate and take the NotaryStars.com training.
---
Do You Preform Remote Online Notarizations
---
Yes, we do preform Remote Online Notarizations. If you are a Notary who does Remote Online Notarizations you will need to sign up independently from the information you learn via this link: https://form.jotform.com/212436562765056
---
---